OUR APROACH
MAKER EDUCATION
We believe that hands-on and learner-driven experiences are essential for preparing students for an uncertain future.
Why do we think Maker Education is important?
Maker education is an approach that promotes 21st-century, future ready skillsets. While your students might not remember the first invention they make, the skills they acquire will stay with them for life. Maker education empowers them to become active creators, innovators, and problem solvers in a world driven by digital technologies.
Our Maker Ed programs promotes the following skillsets:
Critical thinking and problem-solving
Our Maker Ed programs enable students to tackle real-world challenges. By tinkering and exploring innovative solutions, students are equipped with the skillsets and mindsets needed to thrive in the future
A love for learning and a can-do attitude
Taking ownership of their maker projects helps students embrace challenges as opportunities for growth and learning.
Being a team player
By collaborating and working in teams, students acquire effective communication, idea sharing, and teamwork skills that are vital for success in their future careers.
Personal excellence and integrity
Maker Ed approaches also provide opportunities for teachers to emphasize values such as honesty, ethical conduct, and responsible decision-making, and guide students towards taking responsibility for their work.
Cultivating a
Maker Mindset
We believe that every student has the potential to be a maker. Being a maker requires three fundamental thinking skills and mindsets:
Growth Mindset
Makers believe that they can learn to do anything. As educators, when you give yourself permission to fail, you give your students courage to do so as well.
Craftsmanship
Makers have excellent work ethic and maintain the highest standards for themselves even when no one is looking.
Open Sharing
Makers are willing to share their ideas and build upon the idea of others to achieve collective brilliance.
Here's how our Maker Education approach sets us apart:
1.
An emphasis on
low floors, high ceilings and wide walls
Tinker to discover
Our environment promotes students to learn through tinkering and making, encouraging students to own their discoveries and explore a range of solutions.
Make to learn
We emphasize an open-ended solutioning mindset, helping students develop fundamental first principles rather than focusing on specific technologies. Students can deepen their understanding through making, and then apply their newly-learned knowledge to solve other problems.
Application projects
Students apply their understanding to work on specific projects, showcasing and deepening their knowledge.
2.
Educator-centered
professional development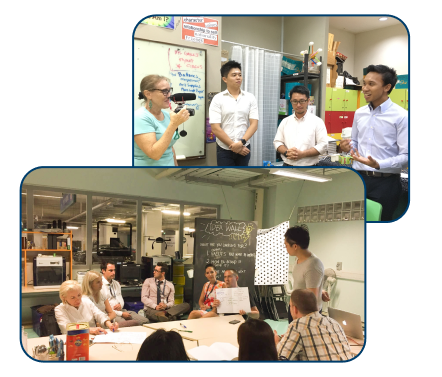 Supported by our team's combined 50 years of classroom and training experience, we offer comprehensive maker resources and ongoing professional development that equip educators with introductory Maker Education principles, pedagogical knowledge, technical skills, and confidence to incorporate Maker Education into day-to-day classroom teaching.
3.
Integration with
key school priorities & programs
We recognize the importance of integrating Maker Education within different educational frameworks, allowing students to explore interdisciplinary connections and develop a deeper understanding of various subjects. Our lessons can align with school's existing approaches, such as design thinking, arts/culture, sustainability, etc.
Check out our ongoing partnership with Bendemeer Primary School!
Learn more
4.
Integration with
emerging and future ready technologies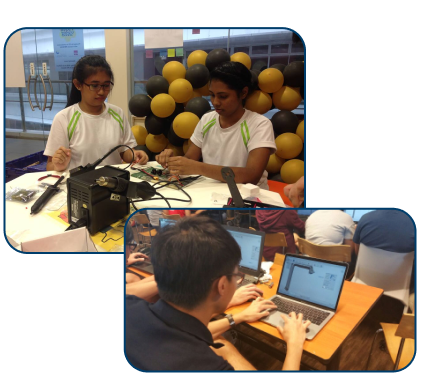 We integrate emerging technologies, project-based learning, and authentic assessments to provide students with a comprehensive and future-oriented learning experience. Participants in our programs have designed VR school tours, used IoT to support urban farming efforts, and coded AI programs to detect if students are masking up - just a few examples of how we take a maker ed approach to the use of emerging technologies.
A 5-year partnership with Bendemeer Primary School, Singapore



Bendemeer Primary School is a K-6 elementary school in Singapore. The school is unique in Singapore - climate education is interwoven into school programs and the curriculum.